Tablet Weaving and Ply-Splitting Books, Tools & Kits

---
Our Favorite Recipes: Whole-Food Plant-Based & Climate-Friendly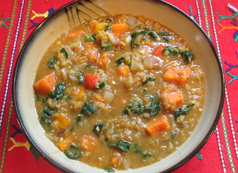 Here are a few of the recipes that John and I enjoy on a regular basis. Scroll down to see a photo and description of each dish. Click on any image to go to the recipe. Please feel free to contact me if you have any questions.

I love to eat, and am passionately committed to a whole-food plant-based & climate-friendly diet. I also enjoy cooking and developing recipes. In 2018, I learned a lot by completing the Forks Over Knives plant-based, no-oil cooking course offered through the Rouxbe Online Cooking School. I also learned a lot from a weekly live cook-along hosted by Kim Campbell, and videos of Kim's demonstrations are on the PlantPure TV Channel on YouTube.

John is a great partner in the kitchen; he worked as a cook in a campus restaurant when he was a college student, and now likes to call himself my sous chef.

All recipes are whole-food plant-based (vegan), gluten-free, and made without added oil, salt, or sugar.
---
Red Lentil Dal with Onions & Mushrooms

Adapted from a recipe by Gitam Garden, found 4/29/13 on the website of Byron Yoga Centre, Byron Bay, Australia

Red Lentil Dal is probably our favorite of all, good for breakfast, lunch, dinner, or a snack. John makes a big pot of dal just about every week. It's super-easy, just red lentils and a whole lot of spices! To make it extra-delicious and nutritious, John often makes a no-oil onion and mushroom saute to go on top.

Split Pea Soup



A thick and satisfying soup. Easy to make, just split peas, onions, garlic and carrots. We like this flavorful combination of herbs and spices: marjoram, basil, cumin, and chipotle powder.

Mediterranean Red Lentil Stew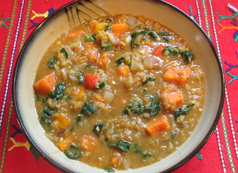 Adapted from a recipe served at the Shoshoni Yoga Retreat Boulder, Colorado, and featured in The Oregonian FoodDay section, Sept. 21, 2004.

Red Lentils with yams (or winter squash), red bell peppers, onion, garlic, kale, and dates, with added flavor from tamari, balsamic vinegar, cumin, coriander, and cinnamon.

Golden Cauliflower Soup



A favorite since 2012, adapted from a recipe in Eat to Live by Dr. Joel Fuhrman, page 347.

Cauliflower, onions, carrots, celery, and garlic are simmered together for just 5 minutes, and then blended in batches with sunflower and pumpkin seeds for a rich and creamy soup. A little nutmeg adds to the flavor, and finely-chopped kale is added at the end.

Curried Butternut Squash Soup



A longtime favorite, adapted from a recipe by my friend Lynn Adams.

Butternut squash, yams, and a tart green apple join onions and garlic in this delicious soup. It's flavored with curry powder and garam masala, and has sunflower and pumpkin seeds for a little healthy fat.

Steamed Purple Potatoes and Butternut Squash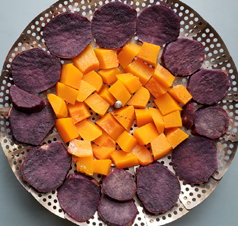 We usually have some leftover butternut squash after making Curried Butternut Squash Soup. I like to cube the squash and steam it with slices of purple sweet potato. I store them separately in the refrigerator, and add them to veggie bowls or just eat them as snacks. Purple sweet potatoes are especially satisfying!

Veggie Bowl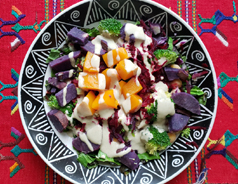 I have a big veggie bowl for lunch just about every day. There are endless variations. Here's one possibility, using some of the steamed purple sweet potatoes and butternut squash above. This bowl includes millet, garbanzo beans, collard greens, broccoli, and shredded beets, topped with Seed Dressing.

Delicata Squash Rings with Soft Polenta



Adapted from a recipe in the FoodDay section of The Oregonian, November 2009.

A wonderful dish for Fall. Delicata squash doesn't have to be peeled, so just cut into rings, remove seeds, and steam while the polenta is cooking in the Instant Pot. We like this topped with a mixture of kalamata olives, red bell pepper, garbanzo beans, and raisins.


Creamy Polenta with Mushrooms, Kale, and Chickpeas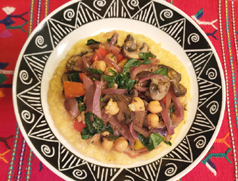 We first tasted this dish when someone brought it to a Plant-Based Portland Meetup potluck in 2016. Adapted from a recipe on Dr. Fuhrman's website.

The delicious topping also includes red onions, red bell peppers, herbs, and balsamic vinegar. Adding some aquafaba from cooking the chickpeas makes it nice and moist. We love the creamy polenta that we make in the Instant Pot. It's so easy! You could also serve the topping over quinoa or any grain, pasta, or potatoes. .


Bell Pepper Quiche


Adapted from a recipe demonstrated on PlantPure Kitchen Live with Kim Campbell, April 30, 2020.

Colorful bell peppers with a delicious, creamy filling made from tofu, frozen hash-brown potatoes, frozen spinach, and herbs.

I have included the recipe for Seed Dressing, in case you want to drizzle some on top.

Tennessee Corn Pone

Adapted from a recipe I found on Dr. Joel Fuhrman's website years ago.

This recipe has a filling of black-eyed peas and corn, with a cornbread topping. It's also great with pinto beans. I pressure cook the peas or beans, and then store them covered in their cooking liquid, known as aquafaba. Including the aquafaba rather than draining off the liquid before measuring makes this dish deliciously moist.

Super Slaw


Adapted from Eat to Live Cookbook by Dr. Joel Fuhrman, page 119.

Made with raw beets, carrots, red cabbage and apples. Such a beautiful color, and always a hit at potlucks!

John's Instant Potato Salad


John came up with this super-quick recipe for delicious potato salad, and makes it just about every week. It's great for a snack, or as a side dish with a meal.

Made with microwaved russet potatoes, Seed Dressing, pickle relish, and mustard. I have included the recipe for Seed Dressing.

Banana Mash


I enjoy some version of Banana Mash as dessert after lunch every day. It's so delicious! Mashed banana, turmeric, ginger, leftover fruit from breakfast, and homemade soy yogurt all stirred up and topped with ground flaxseed and berries.

I invented this recipe when I was trying to figure out how to include turmeric and flaxseed into my daily diet. These two, along with berries and other fruit, are included in Dr. Michael Greger's Daily Dozen.



Blueberry Muffins


From Straight Up Food by Cathy Fisher, page 48.

John likes to have half of a muffin with his coffee each morning while I'm walking our dog. He started making his own muffins when he became interested in finding a healthier version. These are made with rolled oats and millet, with walnuts, and extra flavor from cardamom and lemon zest. He freezes most of them, and a dozen lasts him almost a month!



Easy Homemade Granola


Finally, an oil-free granola recipe that I really like! It's easy to make, and has a nice crunch. It's incredibly versatile, and as long as you have the oats, there are many different options for the other ingredients. I like to include a cup of buckwheat.

The method is to make a puree of fruit and other wet ingredients, mix it with the dry ingredients, spread on two baking pans, and bake for an hour. Then turn off the oven and leave the pans there overnight. You can add dried fruit when you take it out of the over, but I don't bother.

I like to eat my granola as an evening snack with cherries and blueberries, a splash of pomegranate juice, and some homemade soy yogurt.

Soy Yogurt in the Instant Pot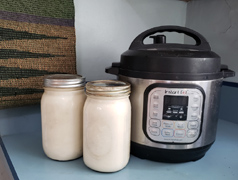 So easy to make, and I think it tastes much better than any commercially-made yogurt!

Be sure to use soy milk that contains only soybeans and water. I have been pleased with Westsoy Organic Unsweetened Plain Soymilk. My soy yogurt is tangy, and about the thickness of lassi, which is fine with me. I save 1/4 cup of my homemade yogurt to start the next batch.

I did have a strange experience during the pandemic when I couldn't find any Westsoy brand soymilk. I used a soymilk made here in Portland by Ota Foods, and although it contains only soybeans and water, the texture of the yogurt was more like jello. I do love Ota tofu, but unfortunately, their soy milk didn't work for making yogurt.
Nomato Sauce


Adapted from a recipe found on May 27, 2020 at https://grassfedsalsa.com/blog/nomato-sauce-aip-marinara/

I have a contact sensitivity to acidic foods, so have been avoiding anything containing tomatoes, citrus, or vinegar for years. I was thrilled to discover that I can enjoy this delicious recipe for Nomato Sauce. It's a game-changer for me! The beautiful color comes from carrots, pumpkin puree, and a small beet.


---
Home

This page created on May 10, 2020, and updated on March 28, 2022.