Tablet Weaving and Ply-Splitting Books, Tools & Kits

---
Our Favorite Recipes
Click on any photo to go to the recipe


Please feel free to contact me for details about any of the information below. I often post photos of what we're eating on my personal facebook page, https://www.facebook.com/linda.hendrickson.9047. (Please copy & paste the URL; I can't make a clickable link from my website!).

---
I love to eat, and am passionately committed to a whole-food plant-based diet. I also enjoy cooking and developing recipes. In 2018, I learned a lot by completing the Forks Over Knives plant-based, no-oil cooking course offered through the Rouxbe Online Cooking School. I'm currently enjoying and learning a lot from the weekly cook-along with Kim Campbell on PlantPure Kitchen Live.

John is a great partner in the kitchen; he worked as a cook in a campus restaurant when he was a college student, and now likes to call himself my sous chef.

Here are a few of the recipes that John and I enjoy on a regular basis.

All recipes are whole-food plant-based (vegan), gluten-free, and made without added oil, salt, or sugar.

---
Red Lentil Dal
with Onions & Mushrooms

Adapted from a recipe by Gitam Garden, found 4/29/13 on the website of Byron Yoga Centre, Byron Bay, Australia

Red Lentil Dal is probably our favorite of all, good for breakfast, lunch, dinner, or a snack. John makes a big pot of dal just about every week. It's super-easy, just red lentils and a whole lot of spices! To make it extra-delicious and nutritious, John often makes a no-oil onion and mushroom saute to go on top.

Split Pea Soup



A thick and satisfying soup. Easy to make, just split peas, onions, garlic and carrots. We like this flavorful combination of herbs and spices: marjoram, basil, cumin, and chipotle powder.

Mediterranean Red Lentil Stew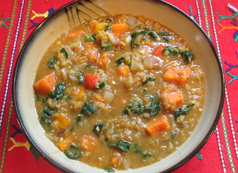 Adapted from a recipe served at the Shoshoni Yoga Retreat Boulder, Colorado, and featured in The Oregonian FoodDay section, Sept. 21, 2004.

Red Lentils with yams (or winter squash), red bell peppers, onion, garlic, kale, and dates, with added flavor from tamari, balsamic vinegar, cumin, coriander, and cinnamon.

Bell Pepper Quiche


Adapted from a recipe demonstrated on PlantPure Kitchen Live with Kim Campbell, April 30, 2020.

A new favorite -- colorful bell peppers with a delicious, creamy filling made from tofu, frozen hash-brown potatoes, frozen spinach, asparagus, and herbs.

Tennessee Corn Pone

Adapted from a recipe I found on Dr. Joel Fuhrman's website years ago.

This recipe has a filling of black-eyed peas and corn, with a cornbread topping. It's also great with pinto beans. I pressure cook the peas or beans, and then store them covered in their cooking liquid, known as aquafaba. Including the aquafaba rather than draining off the liquid before measuring makes this dish deliciously moist.

Super Slaw


Adapted from Eat to Live Cookbook by Dr. Joel Fuhrman, page 119.

Made with raw beets, carrots, red cabbage and apples. Such a beautiful color, and always a hit at potlucks!

Blueberry Muffins


From Straight Up Food by Cathy Fisher, page 48.

John likes to have half of a muffin with his coffee each morning while I'm walking our dog. He started making his own muffins when he became interested in finding a healthier version. These are made with rolled oats and millet, with walnuts, and extra flavor from cardamom and lemon zest. He freezes most of them, and a dozen lasts him almost a month!

Home

This page created on May 10, 2020, and updated on May 25, 2020.