Tablet Weaving and Ply-Splitting Books, Tools & Kits

---
Recipe for Tennessee Corn Pone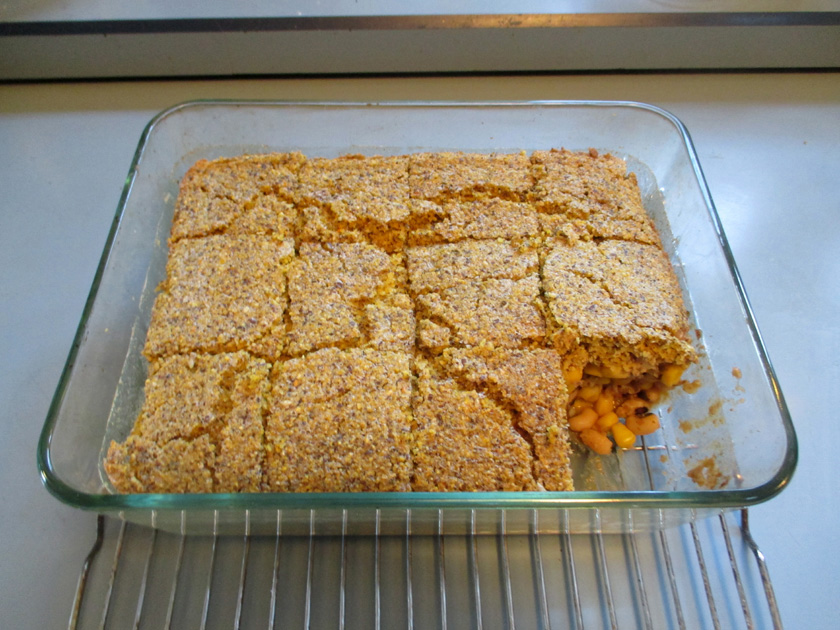 Adapted from a recipe I found on Dr. Joel Fuhrman's website.

6 cloves garlic, minced
3 cups cooked black-eyed peas with aquafaba (cooking liquid)
2 cups frozen corn, thawed
1 tsp. ground cumin
1/4 tsp. chipotle chili powder
1/4 tsp. dried jalapeno pepper flakes
1-1/2 cups hemp milk, divided
4 teaspoons apple cider vinegar
1/4 cup ground flax seeds
1 cup polenta
1 tsp. baking soda

Preheat oven to 400°F. Spread frozen corn into shallow bowl to thaw.

Mince garlic. Let sit 15 minutes before cooking to maximize health benefits.

Make hemp milk, Grind flax seeds. Assemble other ingredients.

Combine black-eyed peas, corn, garlic & spices in a pot and heat on low until warm.

Pour 1 cup hemp milk into a large mixing bowl.

Mix the flax seed and vinegar with the hemp milk in the mixing bowl. Add polenta and stir well. Let rest for about 5 minutes to thicken.

Put 1/2 cup hemp milk into a larger measuring cup. Stir in the baking soda (you need to dissolve the baking soda in the liquid in order not to taste it).

Add the baking soda/hemp milk mixture from measuring cup to the mixing bowl. Stir well.

Place the black-eyed pea/corn mixture into a 7"x9" clear Pyrex baking dish. Smooth mixture to edges of dish. Pour cornmeal mixture over the top and to edges of dish.

Bake 20 - 30 minutes, until set and golden brown. Place on cooling rack on counter.

When cool, use a metal spatula to loosen cornpone from edges of baking dish and slice into 12 servings.


---
Shop
Home

This page created on May 11, 2020.