Tablet Weaving and Ply-Splitting Books, Tools & Kits

---
Recipe for Mediterranean Red Lentil Stew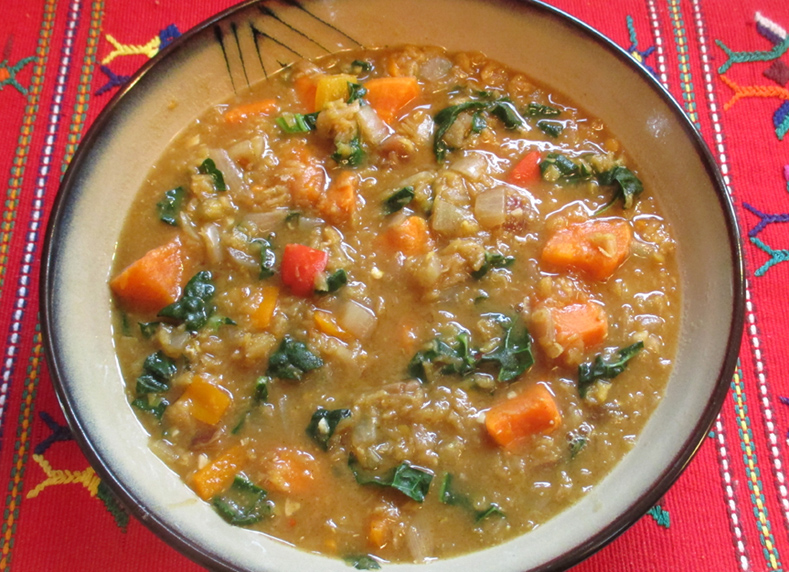 Adapted from a recipe served at the Shoshoni Yoga Retreat Boulder, Colorado, and featured in The Oregonian FoodDay section, Sept. 21, 2004.

1 onion, chopped
2 T grated ginger
4 cloves garlic
2 tsp. ground cumin
2 tsp. paprika
2 tsp. ground coriander
1/2 tsp. ground cinnamon
5 cups water
2 cups peeled and diced yams or winter squash
1 cup dried red lentils
1 cup diced red bell pepper
1 cup fresh kale or collard greens, chopped
1/4 cup chopped dates
2 T tamari
1 tsp. balsamic vinegar or apple cider vinegar
1/4 tsp. red pepper flakes

In large soup pot, healthy saute onion about 5 minutes. Add ginger and garlic and saute or 2 minutes. Stir in cumin, paprika, coriander, and cinnamon. Add water, yams, lentils, and red bell pepper. Simmer until lentils are tender, about 20 minutes.

Stir in greens, dates, tamari, vinegar, and red pepper flakes. Simmer just long enough for greens to wilt.


---
Shop
Home

This page created on May 25, 2020.