Tablet Weaving and Ply-Splitting Books, Tools & Kits

---
Recipe for Red Lentil Dal topped with Onions & Mushrooms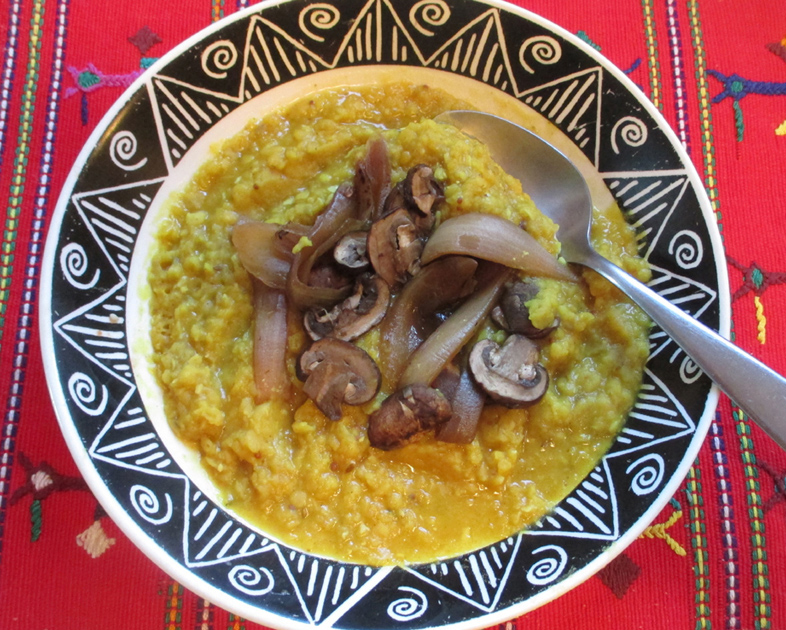 Adapted from a recipe by Gitam Garden, found 4/29/13 on the website of Byron Yoga Centre, Byron Bay, Australia

Red Lentil Dal
2 cups red lentils
5 cups water
2 tablespoons shredded coconut
1/2 teaspoon turmeric
1 teaspoon hing (asafetida)
1 teaspoon mustard seeds
1 teaspoon cumin seeds
1 tablespoon powdered ginger
2 teaspoons ground coriander
1/2 teaspoon garam masala
no-salt seasoning to taste

Rinse lentils, then place them in soup pot with all other ingredients. Bring to boil, reduce heat and simmer about 20 minutes.

No-Oil Sauteed Onions and Mushrooms
1 onion, sliced
2 cups crimini mushrooms, sliced (about 15 small/medium)
1-1/2 tsp. tamari

Heat large stainless steel or cast iron saute pan to medium-high heat. Add onions, and use spatula to move them around the pan constantly, until they are slightly golden and translucent, about 3 minutes. Add a little water or vegetable stock to deglaze pan. Reduce heat to medium.

Add mushrooms and tamari and mix well. Continue to stir frequently. Sauté a few minutes until the mushrooms have released their liquid and the pan is almost dry.

---
Shop
Home

This page created on May 11, 2020.