Tablet Weaving and Ply-Splitting Books, Tools & Kits

---
Recipe for Easy Homemade Granola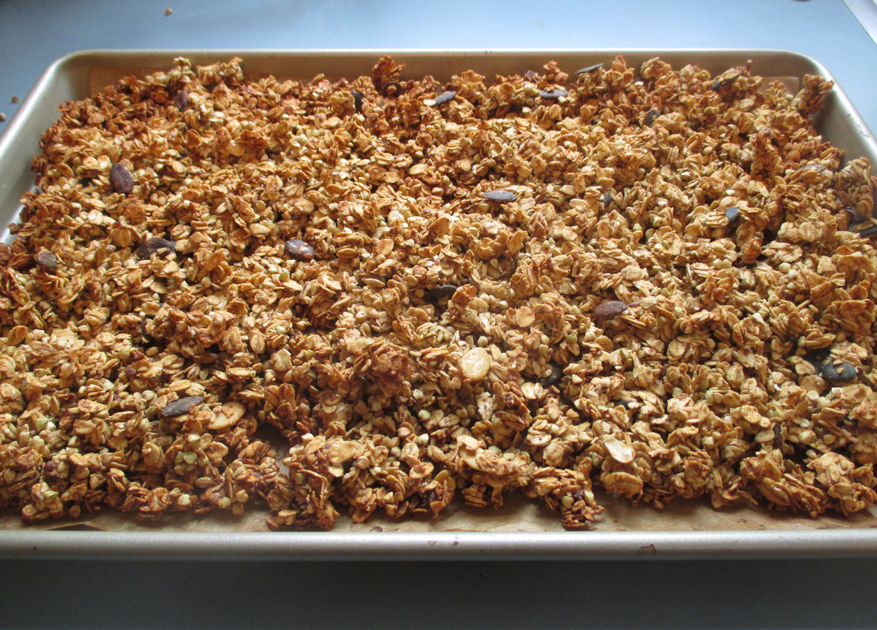 Adapted from a recipe demonstrated by Kim Campbell on Plant-Pure Kitchen Live, streamed live on Mar 4, 2021.

Dry Ingredients (6-7 cups dry ingredients)

5 cups gluten-free oats (or regular rolled oats; do not use quick oats)
1-1/2 cups of any combination: buckwheat, quinoa, nuts, seeds, unsweetened coconut flakes, flax meal. (mix and match to your preference)

Wet/Blender Ingredients (1-1/2 cups wet ingredients)

3 fresh or frozen figs (or 1 banana, or 1/3 cup applesauce, or 1/3 cup pumpkin, or any other fruit puree)
1/4 cup nondairy milk
1/4 cup tahini (or any nut or seed butter such as almond or sunflower)
2 tsp. vanilla (or other flavoring extracts)
6-8 pitted and soaked medjool dates (or 1/4 cup sweetener: maple syrup, molasses, agave, date syrup)
1 tsp. powdered ginger 1 tsp. garam masala (or any spice such as cinnamon, pumpkin pie spice, or gingerbread spice)

Dried Fruit (optional): 1 cup mixed dried fruit

Preheat oven to 275°F. Line two baking sheets with parchment paper or silicone mat.

Combine the dry ingredients in a bowl and mix well.

Blend the wet ingredients in a blender until smooth and creamy. Pour the wet mixture into a large mixing bowl. Add the dry ingredients a little at a time, mixing until well combined and thoroughly coated.

Evenly spread the granola onto two prepared baking sheets and bake for 60 minutes. Turn the oven off, but do not remove the granola. Allow it to continue to cool naturally and dry out. Keep the granola in the oven 4-6 hours or overnight.

Add the dried fruit, if desired, and store in an airtight container for 10-14 days. Always add dried fruit after cooking to avoid burning.


---
Shop
Home

This page created on May 23, 2021.