Tablet Weaving and Ply-Splitting Books, Tools & Kits

---
Creamy Polenta with Mushrooms, Kale, and Chickpeas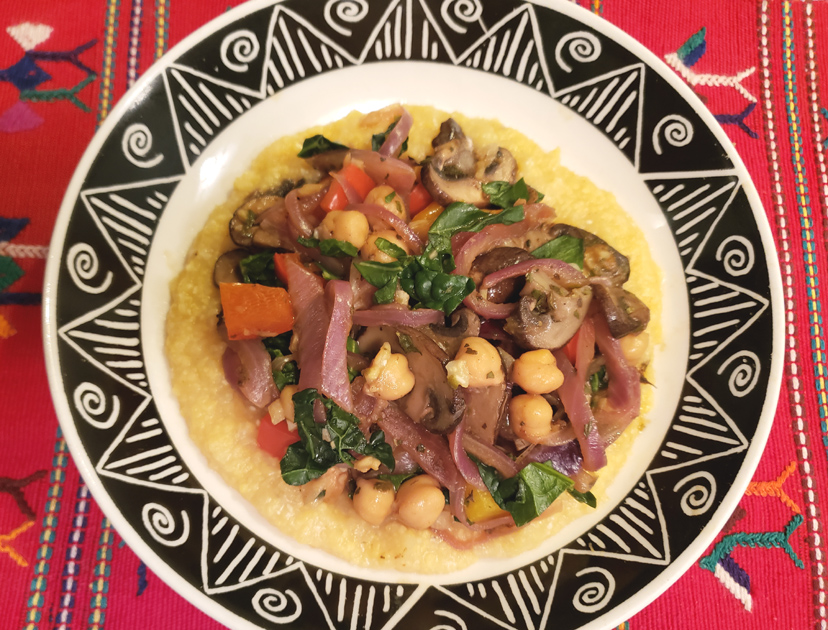 Adapted from a recipe on Dr. Fuhrman's website.

Make polenta in the Instant Pot:
4-1/2 cups water
1 cup polenta
2 T Veggie Broth powder (see recipe at the end)

Whisk all ingredients together in the Instant Pot until combined. Pressure cook for 9 minutes. Let pressure come down naturally. Stir well with a whisk until creamy. Mixture will thicken up as it cools.

Vegetable & chickpea topping:
4 cloves garlic, minced
1 large red onion, sliced
10 ounces cremini mushrooms, sliced
1 T balsamic vinegar
1 T Veggie Broth Mix (see recipe at the end)
1/2 tsp. basil
1/2 tsp. oregano
1/2 tsp. marjoram
1-1/2 cups cooked chickpeas, with aquafaba
1 red bell pepper, 1/2" dice
2 cups chopped kale (or more)

Mince garlic and let it sit at least 15 minutes for health benefits to develop.

Healthy saute the onions for a few minutes, stirring with metal spatula, and deglazing occasionally with water.

Add mushrooms. Cook until onions are tender and mushrooms have cooked down.

Add garlic and saute for another minute.

Add balsamic vinegar and saute for another minute.

Add Veggie Broth Mix and herbs. Stir well.

Add chickpeas with aquafaba, bell pepper, and kale. Cook just until everything is warm and the kale has wilted.

Recipe for Veggie Broth Mix:
I first made this mix at Food as Medicine Meetup on June 12, 2016, and now make it using the herbs that John and I especially like. Use whatever herbs are your favorites. Adapted from a recipe found at: http://myplantbasedfamily.com/2012/11/11/veggie-broth-mix/

4 tsp. onion powder
1-1/2 tsp. garlic powder
1/2 tsp paprika
1/4 tsp. turmeric
1/2 tsp. marjoram
1/2 tsp. basil
1/2 tsp. parsley
1/2 cup nutritional yeast

Mix all ingredients together. Store in an air tight container.

This recipe makes about 3/4 cup of dry veggie broth mix.

Use 1 Tablespoon of broth mix per cup of water, or to taste.


---
Shop
Home

This page created on March 17, 2022.