Tablet Weaving and Ply-Splitting Books, Tools & Kits

---
Yarn and Yarn Kits for Tablet Weaving
---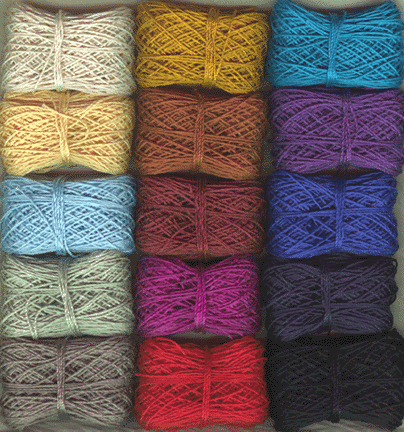 5/2 Perle Cotton
$1.20 per ball including shipping

This is 5/2 perle cotton from Yarn Barn, which I have wound into 40-yd. balls. I use this yarn for most of my tablet weaving, and also for making cords for ply-splitting. Click on the image of the yarn balls to see a larger view and color names.


Update: I can wind 40-yard balls of all of the colors of 5/2 perle that I use to make my ply-split cords. Below is the color chart:
NOTE: I no longer have Dusty Coral, and instead have Lilac.


---
Perle Cotton Kit
$7.00 including shipping

Kit contains six balls 5/2 perle cotton, 40 yds each. Choose any combination of colors shown above.



---

Friendship Bracelet Kit for Children of all Ages
$19.50 including shipping


Kit contains the following:

Six balls 5/2 perle cotton, 40 yds each. Choose any combination of colors shown above.
16 tablets
Child's wooden stick shuttle (made from lattice)



The booklet contains all of the basic information needed to get started with tablet weaving, including warping, arranging the tablets for a variety of geometric patterns, instructions for making friendship bracelets, and suggestions for other projects. The only thing you need to provide is a way to tension the warp -- this can be done with two C-clamps attached to the edge of a table. We also offer a simple tablet weaving loom on the Tools page; you could easily make one yourself from a board (3" x 3') and two C-clamps.



---
Metallic Yarn
$ 2.50 per ball including shipping

Color: Rainbow White


I used this metallic yarn for the necklaces in my 1996 book Tubular Cardwoven Neckpieces. It's a 4-ply metallic yarn called "Frizette" which I have wound into 40-yd balls. I'm selling out my remaining stock. I still have some Rainbow White (a silvery metallic with highlights of turquoise, rose, and gold).



---
Shop
Home

Please contact me to report errors, broken or incorrect links, etc. Thank you!

This page updated April 13, 2016.