Tablet Weaving and Ply-Splitting Books, Tools & Kits

---
Tablet Weaving Tools
---
My husband, John Brockway, makes the weaving tools when we receive an order-- we do not have them in stock. It is helpful if you contact me to let me know what you're ordering, so John can plan to start working on it. He often has a backlog of orders, but normally can finish making items within a week or two after we receive your order. If it's going to take longer, we'll let you know. Thank you for your patience.

We encourage you to make your own tools. We are always willing to share whatever we know, including were to find raw materials and methods of fabrication. Check my Links page for information.
---

Tablets, set of 25 ..... $7.00 including shipping

The only tablets available featuring warp-twined designs! 3-1/2" square cardboard, thin yet very sturdy.



---
Tablets with additional holes, set of 25 ..... $10.00 including shipping

The same tablets as above, but with a hole in the center of each side. Use these new holes instead of the traditional corner holes for weaving structures such as pebble weave, plain weave, and double-cloth.



---

Warping Wand ..... $10.00 including shipping

This is a simple device that I developed to keep yarns from tangling while making a continuous warp. This one is made from a piece of lattice, about 18" long, with holes drilled 4-1/2" apart.



---
Basic Warp Spreader ..... $35.00 including shipping

Warp spreaders have been used for hundreds of years. They make turning easier by keeping the tablets slightly apart, and also help create a straight selvedge. Our basic warp spreader is 6" wide and 4" high; you can make it higher by putting something under it! Custom widths and heights also available. Clamp the base to your table or board to keep the spreader from skewing.



---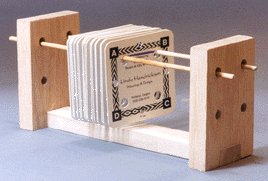 Tablet Holder ..... $32.50 including shipping

Have you ever had your threaded tablets fall in a tangled heap on the floor? Prevent this frustration with the tablet holder! Use it any time your warp is not held under tension. Clamp the base of the tablet holder to your table or board and slide the dowels through the holes in the tablets to keep them in place. I developed the tablet holder to keep things orderly while sleying the cut ends of the warp through a reed for my "spaced-out warp" scarves. Later I discovered how useful it is in other situations. I always use it when I untie the ends of a warp to push out accumulated twist. It also comes in handy when making the warp for threaded-in designs, where tablets are threaded one hole at a time. When ordering, please send one of your tablets so John can drill the holes in the right place.


---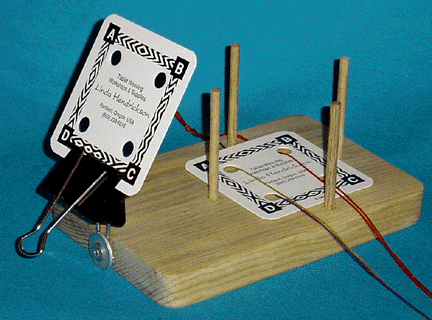 Tablet Threading Device designed by Peter Collingwood
$35.00 including shipping.

This is the device that Peter designed for warping a threaded-in design, in which each hole is threaded individually. Clamp it to the table to begin warping. The clip holds a tablet while you thread the holes and wind off the yarn around warping pegs. Cut and knot the yarn, and put the threaded tablet in the enclosure. Repeat the process with each tablet. See Fig. 19 and "Drawing Warp Through Individual Tablets" in The Techniques of Tablet Weaving for a more details.


---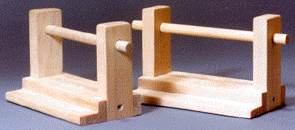 Warp Tensioning Blocks with Horizontal Dowels
$32.50 per pair including shipping

I recommend using these any time you're weaving a band more than 1" wide. Clamp one of the blocks to each end of a board to make a portable loom. Each block has a removeable horizontal dowel, with space for weaving up to 5-1/2" wide (custom widths also available). Allow a little extra when making the warp so you can tie the warp to the dowels in small sections. You can then untie the desired warps at the far end to adjust tension or to push out any twist that accumulates as you weave. Sold in pairs.


---
This page updated April 26, 2019.