Tablet Weaving and Ply-Splitting Books, Tools & Kits

---
Tablet Weaving by Linda Hendrickson: Double-faced bookmarks with traditional motifs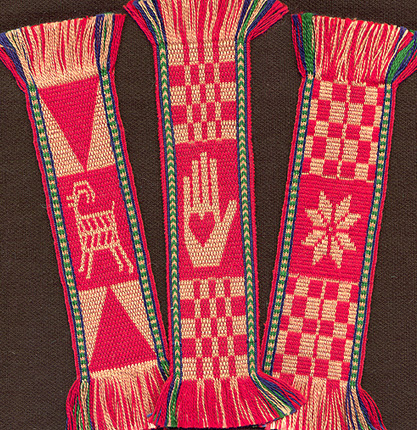 The images are from my book, Double-Faced Tablet Weaving: 50 Designs from Around the World.

These designs have many sources; here are the specific ones I used to create my graphs for weaving:


The mountain sheep is from a petroglyph shown in Rock Art of the Columbia Plateau by James D. Keyser.


The heart in hand image is from a 19th century tin cookie cutter shown in Folk Hearts: A Celebration of the Heart Motif in American Folk Crafts by Cynthia V.A. Schnaffner and Susan Klein.


The 8-pointed star is on a Palestian embroidered pillow cover from Israel, found in Traditional Palestinian Embroidery and Jewelry by Abed Al-Samih Abu Omar.

I used 10/2 perle cotton, with 48 tablets in the double-faced area, and 10 tablets on each side for the warp-twined borders. The woven area is about 5" to 5-1/2" long by 1"-1/2" wide, with 3/4" to 1" fringe on each end.

---
Tablet Weaving Gallery
Shop
Home

This page updated on June 29, 2013.