---
Ply-Split Indy Basket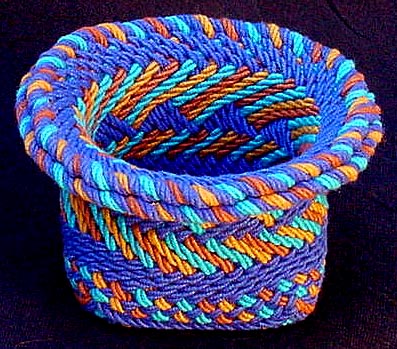 I designed this basket for a workshop in 2002 in Indianapolis, Indiana.

For this basket, I used 4-ply cotton cords, 3/32" in diameter. The finished basket is 2-1/2" high, with a width of 2-1/4" at the base, and 3-1/2" at the rim.

The structures in this basket include plain twining, plain oblique twining POT), and single-course oblique twining (SCOT). The cords in the SCOT section are worked to form triangle designs near the top of the basket. The rim is finished with a traditional basketry technique.

---
Tablet Weaving Gallery
Ply-Splitting Gallery
Shop
Home

This page updated on August 31, 2015.