Tablet Weaving and Ply-Splitting Books, Tools & Kits

---
Tablet Weaving collected on a trip to Turkey, 2003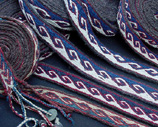 Bands with Running Dog design. Click on the photo for a larger view. I collected these bands while visiting the Yoruk village described below. The one on the bottom is the older, used one. This one may have been dyed with natural dyes, as the color and the variation of shades of the blue looks to me like indigo. I would like to hear from anyone who may know more about these bands and the people who wove them. Please contact me if you have any information.


---


Bands with glass beads and added horsehair fringe. Click on the photo for a larger view. I found these bands in some stalls on the road up to the Assos acropolis. They are made of wool, using just 6 tablets, and are embellished with beads and added horsehair fringe. The design on the beads is ubiquitous in Turkey, meant to ward off the evil eye. Bands like this are common in the tourist shops, but all of the other ones that I saw had ceramic globes attached instead of glass beads.


---

Horse girths. Click on the photo for a larger view. These horse girths were displayed outside of a tack shop in the market town of Tire. I don't know anything about horses, but I love these girths! The bands are woven in simple warp twining using very scratchy, rough yarn in beautiful natural colors, and are sewn to a backing of delightful thick red felt. We saw many horses in Turkey, but the two that I was able to approach close enough to see their trappings were not wearing tablet-woven girths, as far as I could tell.


---
Visit to a Yoruk village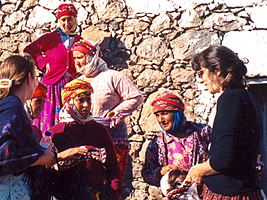 Photos by John Brockway. In September, 2003, John and I made a 2-week trip to Turkey. One of the many highlights was a visit to a Yoruk village near the northern Aegean coast. In the past, the Yoruk were nomads, and tablet weaving was among their traditions. Our guide was Diana Elmacioglu, owner of the Old Bridge House in Assos, where we were staying. We showed the village women a tablet-woven band with the Running Dog motif -- which I had bought earlier in the day in Ayvacik -- and asked if they had anything like it.

We were led down the road, followed by this beautiful child wearing the same traditional Turkish trousers worn by her mother and the other women.


We went into one of the stone houses, and a women brought out a tablet-woven band. I agreed to buy it, even though it was the same as the one I already had. I learned that these women don't know how to weave, so maybe the band was woven by one of their mothers or grandmothers. Such bands were used for carrying babies. I thought the women might like to see how tablet weaving works, so I pulled out my little kit that I had prepared just in case. I set up a warp, and made a friendship bracelet, which I gave to the one who was selling me the band.

There didn't seem to be all that much interest in my weaving demonstration. I think the other women saw an opportunity, and went to their homes to see what they might have to sell me. They started showing me other bands with the same design, pleading with me to buy them. One band, which has obviously been used, has a Turkish coin from 1949, the year I was born. The others appear to be new... but when or where were they woven?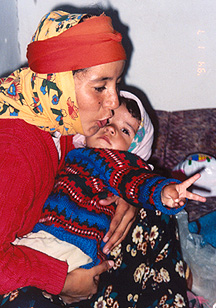 Then I was shown a beautiful pair of traditional Turkish socks, which I admired. Soon other pairs of socks started appearing. Again, they begged me to buy them. These socks must also have been made by their mothers and grandmothers, as the women said they don't know how to knit. I feel sad that they've lost their handcraft traditions.


I left with five bands and four pairs of socks, having spent all the money I had with me. I think about the little girl in the bright flowered trousers, and the others in the village, and wonder what the future holds for them.


---
Tablet Weaving Gallery
Home

This page updated on June 20, 2013.