Tablet Weaving and Ply-Splitting Books, Tools & Kits

---
Tablet Weaving by Tsering Yangzom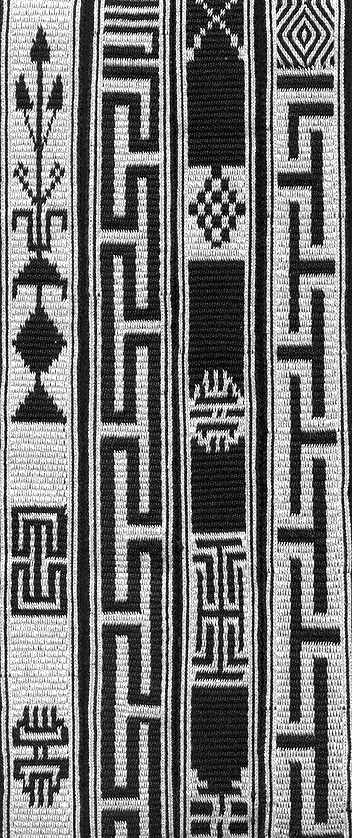 Tsering Yangzom's family fled Tibet when she was 7 years old. She grew up in Nepal, and in school she learned tablet weaving, used to make the belts that Tibetans tie around their chupa. Later she worked in a factory weaving Tibetan carpets.

Tsering now lives in the US, and in 1996 she was one of the featured artists in Auspicious Signs: Tibetan Arts in New England, an exhibition organized by the Connecticut Cultural Heritage Arts Program of the Institute for Community Research.

When Tsering is tablet weaving, she uses leather tablets which her husband made for her. A circular warp is tied to the wall in two places: one near the floor, and the other slightly above her head. The working area of the warp stretches diagonally from her waist to the wall.

The belt shown here consists mostly of double-faced designs. There are some warp-twined stripes at each end, and two areas with warp-twined chevrons and diamonds. 24 tablets were used in the design area, and 6 tablets on each side for the warp-twined borders.

Cotton, 1-1/8" x 71" plus 3-1/2" fringe on one end and warp loops on the other end. Purchased from Tsering Yangzom in 1997. Collection of Linda Hendrickson.

---
Tablet Weaving Gallery
Home

This page updated on July 18, 2013.