Tablet Weaving and Ply-Splitting Books, Tools & Kits

---
Tablet Weaving by Linda Hendrickson: The Queen's Attendant
A double-faced band inspired by traditional African textiles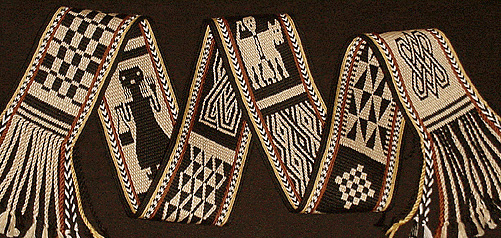 I wove this band for the juried exhibition "Jubilation: Celebrating African Textiles" at Convergence 2000 in Cincinnati. It was also shown in "Tomorrow's Heirlooms" at the ANWG 2001 Conference in Eugene, OR, where it won Weavers Choice and Continuity of Tradition awards.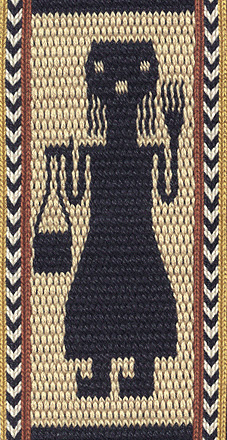 The two figures -- the queen's attendant and the lion and the saint -- are from the 18th century tablet-woven silk curtains from a church in Ethiopia. For more information about these curtains, see "Tablet-woven Curtains from Ethiopia: New Light on a Puzzling Group of Textiles" by Martha Henze, The Textile Museum Journal, 1999-2000, pages 84-100.

Other designs are inspired by cut-pile raffia cloth from Congo, a beaded apron from Botswana, and quilted horse armor from Cameroun.

Graphs for some of the designs can be found in my instruction book Double-Faced Tablet Weaving: 50 Designs from Around the World.

Perle cotton and embroidery floss, woven with 92 tablets. 3-1/2" x 49-1/2" plus 5" fringe on each end.

Woven in 2000.

---
Tablet Weaving Gallery
Home

This page updated on June 7, 2013.