Tablet Weaving and Ply-Splitting Books, Tools & Kits

---
Tablet Weaving by Peter Collingwood: Alphabelts and Inscription Belts
---




Peter used double-faced tablet weaving to create his popular Alphabelts and inscription belts (brief historical notes are at the end of this page). His belts are typically natural and bleached linen, and often have a line of color in the border. They may also be woven in two contrasting colors. There is a woven loop at one end, and the other end is tapered and finished with a decorative braid. Alphabelts have the letters B, E, L, and T in capitals, or replaced by motifs. Inscription belts include quotations, jokes, puns, or anything with special meaning to the buyer or recipient.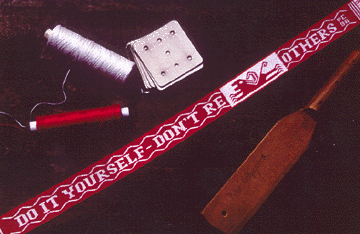 Peter posted his favorite inscriptions on the TWIST Internet list -- here are some of them, along with his comments:


do it yourself -- don't re-lion others -- (the word lion being replaced with the Fort Miran lion in twill double-faced weave)


ye cannot serve both Cod and Salmon -- (only amusing if you know the Bible quote. This had two fish motifs which took hours to work out, and which I now use often)


take 30 tablets says doctor pc


I made a tablet-weaver happy - I bought this


the lyf so short, the craft so long to lerne (sometimes, swamped by email, I feel Chaucer's version of Hippocrates' original saying should be followed by "so from your keyboard and to your tablets turn"!

---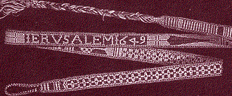 Peter's Alphabelts and other inscription belts are derived from the famous Jerusalem garters (left), which were souvenirs of visits to the Holy City in the 1600s. These narrow silk bands had a woven loop at one end, and carried a woven inscription which usually included the owner's name, followed by "Jerusalem" and the date. Inscription bands have been woven in many parts of the world with a variety of letter forms, including Greek, Arabic, and Burmese. The messages have included prayers and quotations from holy writings, political opinions, and expressions of love.

---
Tablet Weaving Gallery
Home

This page updated on June 18, 2013.