Tablet Weaving and Ply-Splitting Books, Tools & Kits

---
Tablet-woven Bakhtiyari band from Iran, woven in 3/1 broken twill
Collected by Linda Hendrickson in 2002.


This well-used tablet-woven band was sent to me from Tehran, Iran in May 2002. I am so excited to have a Bakhtiyari band at last. This one is wonderful for study purposes -- it is woven of heavy yarn, making it easy to see the individual threads, and it has many different designs.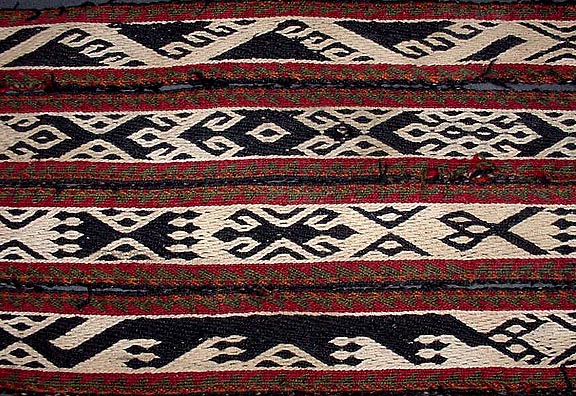 The band is 3" wide and 296" long (24 feet, 8 inches). The central design area was woven using 15 tablets threaded with blue wool and natural cotton. The checkerboard designs at the beginning and end are warp twined, and the other designs are woven in the 3/1 broken twill. A few loops of cotton remain at one end, showing that the weaver made a continuous warp for this section of the band.



The warp-twined border consists of 9 tablets on each side. The innermost tablet on each side was threaded with white cotton. The remaining tablets were threaded with wool -- five with rust and/or green for a sawtooth design; two with rust, gold, and green to make a chevron; and a single tablet on each with dark blue.

There is an interesting error in the two-tablet chevron design. On one side of the band, the colors are matched -- gold with gold and red with red -- but on the other side gold and red are paired.


---
Tablet Weaving Gallery
Home

This page updated on June 20, 2013.