Tablet Weaving and Ply-Splitting Books, Tools & Kits

---
Photo shown at Expanding the Girths, an exhibition of traditional and contemporary ply-split braiding, West Ox Arts Gallery, Bampton, England, September 28 - October 21, 2001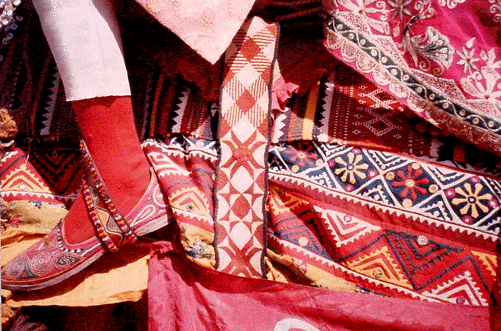 Traditional Ply-Split Braiding in India

Ply-split girth on a camel at the annual Desert Fair, Jaiselmer, Rajasthan, India, 1987.

Girths hold the saddle on the camel's back. The girth shown here (vertical in the photo) was made using red and white cotton cords. The cords were ply-split using a combination of single-course oblique twining (SCOT) and plain oblique twining.

Photo by Peter Collingwood.

---
Ply-Splitting Gallery
Shop
Home

This page updated on June 25, 2013.