Tablet Weaving and Ply-Splitting Books, Tools & Kits

---
Photo shown at Expanding the Girths, an exhibition of traditional and contemporary ply-split braiding, West Ox Arts Gallery, Bampton, England, September 28 - October 21, 2001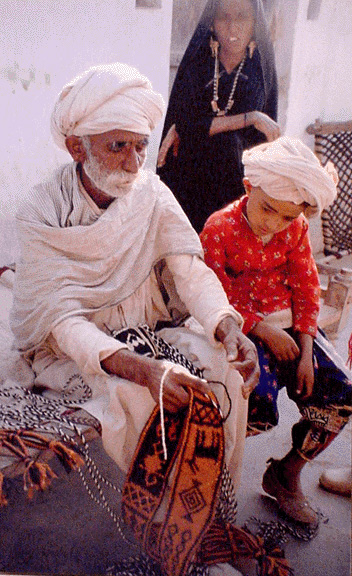 Traditional Ply-Split Braiding in India

Kharna Bhima making a black and white ply-split camel girth at Mamura, Kutch, January 1994.

The structure is two-layered oblique interlacing (TLOI) using 2-color cords made from white and black goat hair, plied AABB. The girth he is holding is also worked in TLOI, using cords made from orange-dyed and natural black goat hair.

Photo by Peter Collingwood.



---
Ply-Splitting Gallery
Shop
Home

This page updated on June 25, 2013.