Tablet Weaving and Ply-Splitting Books, Tools & Kits

---
Photo shown at Expanding the Girths, an exhibition of traditional and contemporary ply-split braiding, West Ox Arts Gallery, Bampton, England, September 28 - October 21, 2001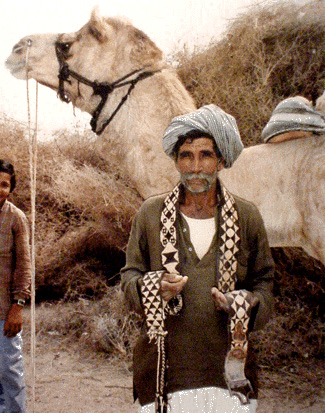 Traditional Ply-Split Braiding in India

Tulsa Ram holding a traditional ply-split camel girth that he made, Dhivera, India, February 1989.

Black and white goat hair was used to make 4-ply cords for ply-splitting. The structures used for this girth are single-course oblique twining (SCOT) and plain oblique twining (POT). Skillful combination of these two structures results in a wide variety of striking geometric designs.

Photo by Peter Collingwood.

---
Ply-Splitting Gallery
Shop
Home

This page updated on June 25, 2013.