META NAME="DESCRIPTION" CONTENT="Ply-split sling bags by Errol Pires, India, shown at Expanding the Girths, an exhibition at West Ox Arts Gallery, Bampton, England, September 28 - October 21, 2001">


Tablet Weaving and Ply-Splitting Books, Tools & Kits

---
Work shown at Expanding the Girths, an exhibition of traditional and contemporary ply-split braiding, West Ox Arts Gallery, Bampton, England, September 28 - October 21, 2001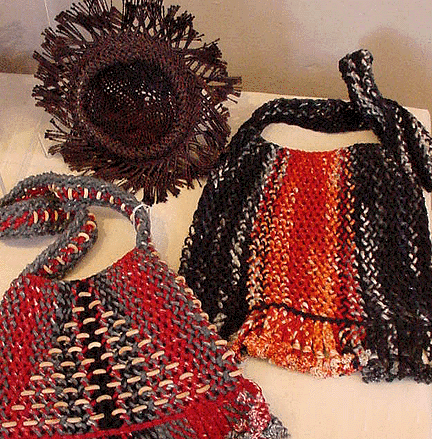 In the foreground: Two ply-split sling bags by Erroll Pires, India. Copyright Erroll Pires, 2001.

"I have been practicing ply-split braiding for 16 years and have invented a technique called ply-split interlinking. With this technique I have developed seamless garments, bags, belts and containers. I also experiment with tye-dyeing techniques on the cotton cords that I use." --Erroll Pires

In the background: Ply-Split Stainless Steel Basket by Linda Hendrickson.

The stainless steel yarn used for this basket is made up of filaments finer than a human hair. Although the basket is 100% steel, it is very flexible.

---
Ply-Splitting Gallery
Shop
Home

This page updated on June 24, 2013.