Tablet Weaving and Ply-Splitting Books, Tools & Kits

---
An image from my sazigyo collected in 2004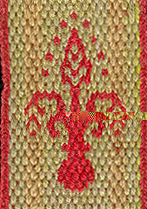 "Many (but not all) of the twelve signs of the zodiac can be found among the woven images of sazigyo...The water pot for Aquarius, the sign for the month of Tabodwe, is often depicted as a vase of flowers. But a plant in a pot need not signify Aquarius; it may symbolize earth, the first of the Four Elements..."

from Sazigyo: Woven Miniatures of Buddhist Art, Burmese Manuscript Binding Tapes by Ralph Isaacs, page 157.

---
Sazigyo
Tablet Weaving Gallery
Home

This page updated on March 26, 2016.