Tablet Weaving and Ply-Splitting Books, Tools & Kits

---
A ply-split wall hanging created with students at DaVinci Arts Middle School, 2000

Providence Family Medicine in Southeast Portland has commissioned several community artists to work with students to create wall hangings for the clinic exam rooms. This is my second project for the clinic. For this hanging, I worked with eleven students from Andrew Butterfield's Textiles class at DaVinci Arts Middle School, with the help of volunteers from the Portland Handweavers Guild. Together, we created a wall hanging that combines ply-split braids with a tablet-woven band.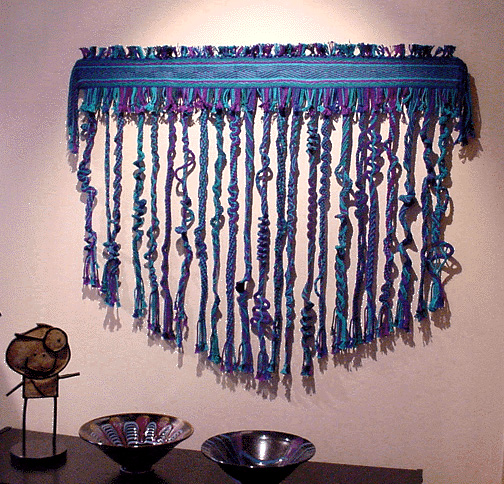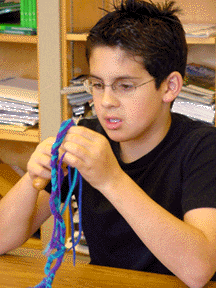 We made 23 ply-split braids using a technique called SCOT (single-course oblique twining). The braids have changing shapes, including curves, zig-zags, spirals, and areas that divide and reconnect. I was really delighted with how quickly the students picked up the technique, and with their creativity -- they invented many new designs! The students liked the portability of ply-splitting, and did much of the work at home on their own.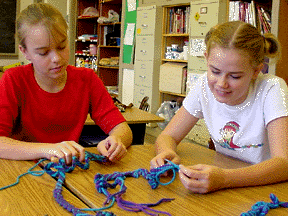 When all of the braids were finished, I took them home to finish the piece. I set up a tablet weaving warp in my studio, and used the cords at the ends of the braids as wefts to create a header band. The finshed piece is approximately 45" x 36".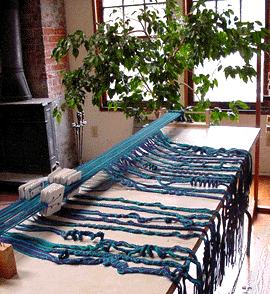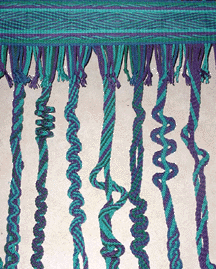 The piece was on display at Contemporary Crafts Gallery in Portland during their 2000 Holiday Show, and then was installed in one of the exam rooms at Providence Family Medicine Southeast.

---
Ply-Splitting Gallery
Shop
Home

This page updated on June 25, 2013.