Tablet Weaving and Ply-Splitting Books, Tools & Kits

---
Ply-Split Scarf by Linda Hendrickson Red/Blue Waffle (2012)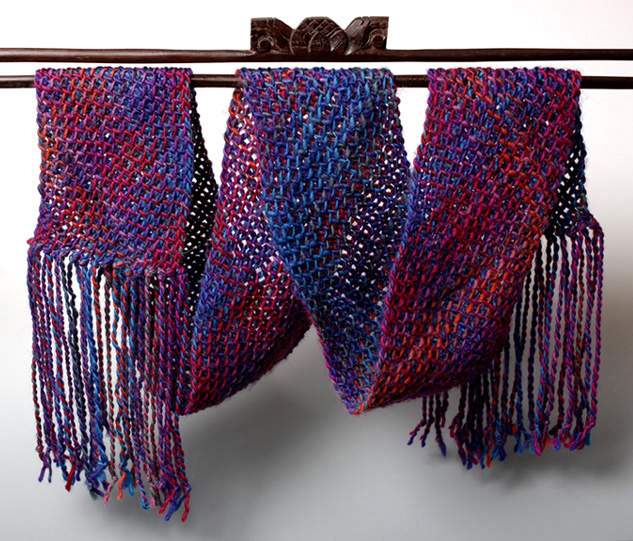 This is one of the ply-split scarves in my "Waffle" series. I started with two skeins of commercial space-dyed wool singles yarn, one in red/orange/purple, and the other in blue/green/purple. I used my Bradshaw cordmaker to make two-ply cords, with one ply from each skein. I'm sure this would be easier for spinners to accomplish! When I twisted the cords, I kept the initial overtwist low so that the plied cord was very soft.

Then I worked the scarf in POT (plain oblique twining) with a full twist between the splittings. With 2-color cords, this results in the "waffle" appearance, with one colorway dominant on one side of the scarf, and the other colorway dominant on the reverse.

This is a very slow process. I probably worked on this scarf off and on for over a year. Fortunately, it's a nice portable project, and doesn't take much thinking once it's started. I finished it in March 2012.

You can order the Waffle Braid Kit with detailed step-by-step instructions and photos to learn how to make this shape.

---
Ply-Splitting Gallery
Kits for Ply-Split Braids and Ornaments
Kits for Ply-Split Baskets
Shop
Home

This page created on March 15, 2012, and updated on June 21, 2013.