Tablet Weaving and Ply-Splitting Books, Tools & Kits

---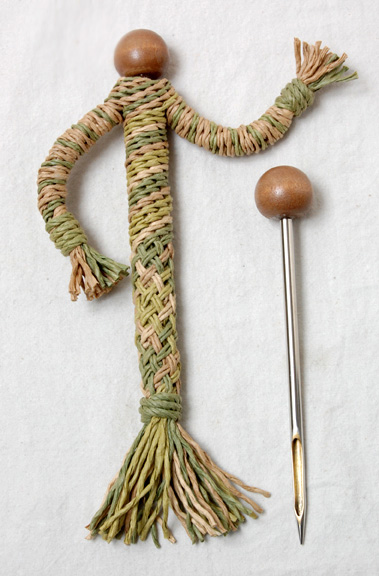 Gripfids -- Ply-Splitting Needles
$ 12.00 each including shipping

Needle sizes 6, 7, 8, 9, 10, and 10.5
Please order gripfids by needle size.





Little Mermaid Gripfid Holder Kit
$ 12.00 including shipping

Kit contains cords that I make from paper ribbon and complete instructions. The knob on a size 9 gripfid is the Little Mermaid's head (gripfid sold separately).

A gripfid is the best tool for ply-splitting -- all of my students prefer it! It has a pointed end to easily split the plies, and a channel for the cord. It grips the cord as you pull it through other cords.

We have been selling gripfids since 2001, when John started fabricating them from brass tubing with guidance from the inventor, Stuart Grainger (see below). In 2008, John started experimenting with hollow knitting needles instead of tubing, after learning about a type of gripfid offered by Louise French . We love the idea because it simplifes production.

When John started making gripfids from aluminum knitting needles, he discovered that in smaller sizes, they aren't hollow. A search of the Internet for "hollow knitting needles" quickly led him to Knit Picks and their hollow double-pointed nickel-plated brass needles, which are made in India. John is now using these to make gripfids.

The late British knotting expert Stuart Grainger invented the gripfid, based on a sailor's fid. You can find instructions and photos for his method of making gripfids in his book, self-published in 1997, Knotted Fabrics (ISBN 0-9530398-0-3), page 71-74. When John started making gripfids, Stuart generously gave John advice about how to make them.

Click here to go to my Instructional Videos page where you can watch John's video on how he makes gripfids from hollow knitting needles


---
Ply-Splitting Tools
Shop
Home

This page updated on June 16, 2013.