Tablet Weaving and Ply-Splitting Books, Tools & Kits

---
Tablet weaving by Linda Hendrickson: Sample from Liz Williamson's Scarf Workshop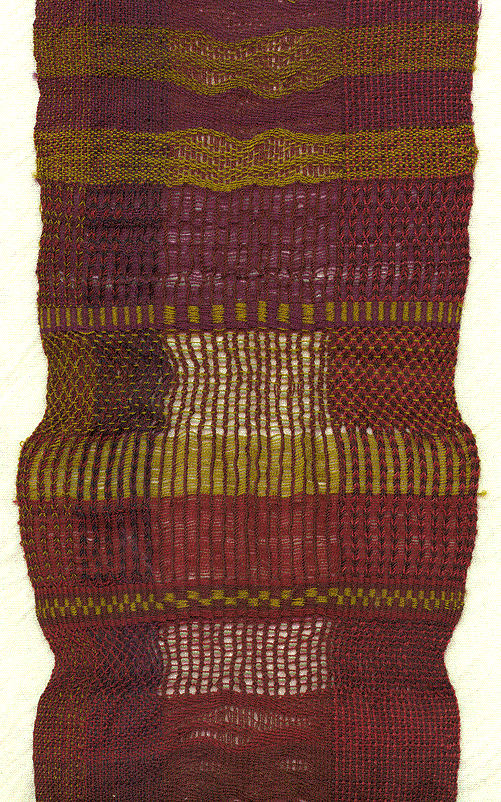 My tablet-woven sample from the July 1999 workshop with Australian weaver Liz Williamson at the Midwest Conference in Bloomington, Indiana. Liz is a very talented artist and a wonderful teacher -- I highly recommend her workshops. While everyone else was warping up floor and table looms, I was trying to figure out what I wanted to explore with my tablets. Liz presented so many possibilities, which included many different ways to achieve textures using various combinations of fibers, structures, and finishing techniques. Her samples are exquisite.

I finally decided to keep it fairly simple and try her very fine 2/36 worsted wool for both warp and weft, with warp twining, gauze weave (leno), and basket weave variations. I used tensioning blocks on a table and a 5-dent reed scrap, and spaced the center threads one tablet per dent (20 epi) and the sides 2 tablets per dent (40 epi). This sample was simply washed by hand and dried flat. I like the result. Of course, you can't tell what it's like from a photo -- you have to feel it! It is incredibly light and airy, yet very stable. I like the combination of the two setts and the differences in surface texture created by using different structures.

The sample is approximately 6" x 10".

Here are a few things that I find interesting about this tablet-woven sample.

Basket weave creates two very different looks. With the tablets all threaded in the same direction, 2 warps travel together. The edge sections (40 epi) are very ordinary but the weft in the center (20 epi) shifts around to create interesting texture as seen in the green and purple stripes at the top. With the tablets alternately-threaded, 4 warps move together and the weft can be packed in to create a completely weft-faced fabric. I used two shuttles with yarn of different values alternately (pick & pick) to create the two distinct rows of weft-faced stripes and checks.

Warp twining spreads out flat when turned continuously in one direction (section with green and orange weft), but draws in when turning is reversed frequently. I turned 8F, 8B in the purple section just under the two wide green stripes. I wish I had used a contrasting value in the weft to make it easy to see what is happening.

Gauze weave draws in the most. A combination of warp-twining and gauze weave could be used to create a scarf with interesting textures and undulating edges -- and it couldn't be woven on a loom.


---
Tablet Weaving Gallery
Home

This page updated on June 18, 2013.