Tablet Weaving and Ply-Splitting Books, Tools & Kits

---
Ply-splitting by Linda Hendrickson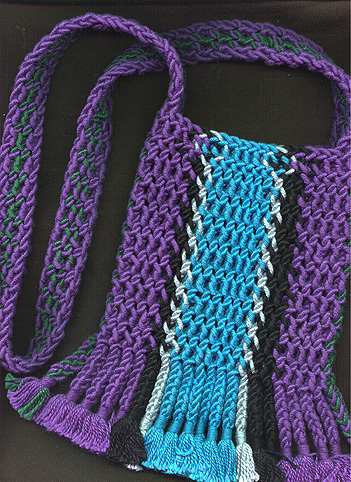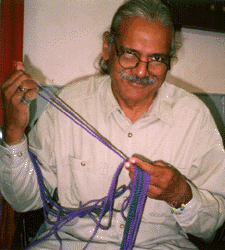 I made this seamless ply-split bag in Errol Pires' Master Class during Spliterati-01, held in Bampton, England in 2001. Errol asked us to make cords at home, and I made mine from 5/2 and 3/2 perle cotton. The structure is twined linkings, which results in an open, stretchy fabric.

Erroll has used twined linkings to create bags and many garments, including full-length dresses. In his class, he worked with each of us individually to make a seamless shoulder bag with this technique. In the photo at right, Errol is helping me get started on the bag strap. My finished bag, including the fringe, is about 5-1/2" x 8".

Errol has a clever way of closing the bottom of the bag and then turning the cords into a neat and compact fringe. Each of the fringes is made by joining a pair of cords from each side of the bag, and working several rows of POT with the four cords. The ends are wrapped.


---
Home

This page updated on June 21, 2013.