Tablet Weaving and Ply-Splitting Books, Tools & Kits

---
Ply-Split Wall Hanging by Linda Hendrickson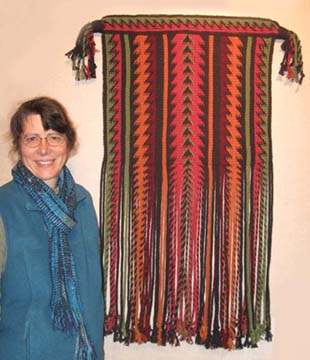 I made this wall hanging in September 2011, as part of my study of using tablet weaving designs for ply-splitting. The truth is, it was going to be a rug, but I promised Ladella I would have it ready for the Portland Handweavers Guild Show in October, and I ran out of time! Turns out I really like it better as a wall hanging -- being able to see the cords makes it more educational. People seem to be fascinated by the transition from the unworked cords to the bold ply-split design.

First I created a graph in Excel for a tablet-woven design determined by the threading. The design for this wall hanging is inspired by "Indian Magic" from Russell Groff's book Card Weaving or Tablet Weaving. My inspiration for the general concept is Plate 1 in Peter Collingwood's The Techniques of Ply-Split Braiding. In this photo, a ply-split darned strap from India and a tablet-woven band from Anatolia both show the same design.

Warp-twined tablet-woven bands can be thought of as plied cords held together by weft. In ply-splitting, when cords are in a warp/weft relationship. the technique is called ply-split darning,




For this wall hanging, I made 4-ply cords using rug wool. For each cord, I followed the threading diagram. The thread color order for each 4-hole tablet became the color order for stringing up the plies for each 4-ply cord. After I finished making all the cords, I lined up the lengthwise ("warp") cords on a long dowel. As I split the crosswise cords ("weft") leaving a quarter-twist between splittings, the design appeared automatically.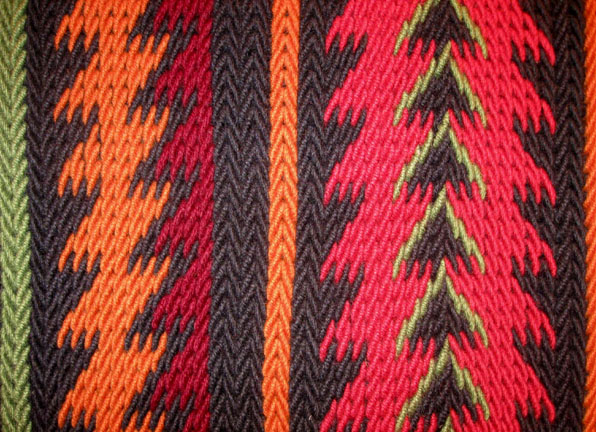 ---
Ply-Splitting Gallery
Home

This page created on December 6, 2011 and updated June 9, 2013.