Tablet Weaving and Ply-Splitting Books, Tools & Kits

---
Ply-split Star Ornaments designed by Linda Hendrickson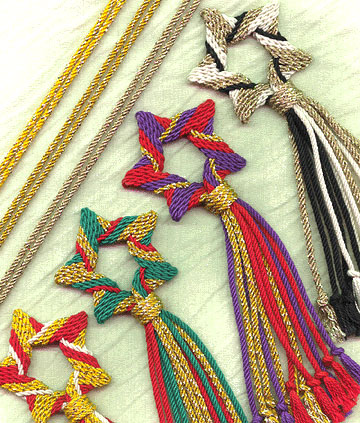 Learn the techniques of ply-split braiding by making this ornament. To order a kit for this ornament with cords and instructions with step-by-step photos, please see details on my Kits for Ply-Split Braids and Ornaments page.

This design is based on a sample that I made in my first ply-splitting workshop with Peter Collingwood in 1993. Five points are worked in SCOT (single-course oblique twining), and a wrapping joins the two ends of the braid into a star.

Metallic/cotton cords, left to right: gold metallic plied with cotton colors (see the color chart) Gold, California Gold, and Beige.



---
Home
Kits for Ply-Split Braids and Ornaments

This page updated on June 14, 2013.