Tablet Weaving and Ply-Splitting Books, Tools & Kits

---
Ply-Split QR Code by Linda Hendrickson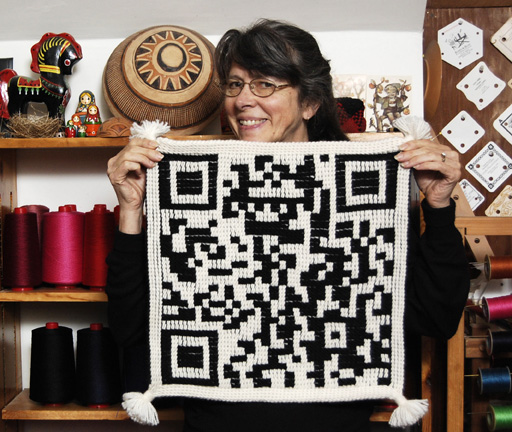 I believe this is the first ply-split piece to feature a QR code. I love watching people scan my ply-splitting with their smart phones, and sharing a laugh with them when they say, "Wow, it works!" as my website pops up on their phone.

My ply-split wall hanging featuring the QR code for this website is an example the unlimited design potential of ply-split darning when all cords of one value are aligned vertically and all cords of the opposite value are aligned horizontally. Any design graphed on square graph paper can be created because every splitting can allow either dark or light to show. I have been experimenting with this concept for several years. My rug Blue Interlacements is another example of this technique, but the interactive nature of a ply-split QR code adds another layer of fun!

In the Spring of 2012, I read an article in The Oregonian about QR codes and learned about QR code generators. I went to one of those websites, typed in the URL for this, my own, website, and immediately got the QR code for it. I printed it, enlarged it (so I could see it better), transferred it to Excel (by hand!), and then duplicated each row and column so that each square of the original design was 4 squares in the Excel graph.

I made 4-ply cords out of Collingwood rug wool, and took them with me on a trip to Oklahoma to visit relatives in April. I strung all the light cords on a dowel (splitting each cord in the center) to get started, then added the dark cords one by one. I kept the dowel in the piece until I had worked to one end, and then removed it to work to the other end.

I made quite a bit of progress on it during the week that I was in Oklahoma, and also while demonstrating at the annual Portland Handweavers Guild Sale here in Portland in May. Later in May, while on a teaching trip to Olympia, Washington, I finished splitting the last row of the graph and students there scanned it for the first time. In July, I took it to Convergence in Long Beach, California. Then it was on display in the Fibers Demonstration Booth at Art in the Pearl her in Portland over Labor Day Weekend. So it has travelled around a bit in its short life -- portability is one of the great things about ply-splitting!

Wikipedia has lots of interesting info about QR codes.

---
Home
This page created on September 4, 2012, and updated May 30, 2013.