Tablet Weaving and Ply-Splitting Books, Tools & Kits

---
Ply-Split Basket "Bushongo Interlacements No. 4" by Linda Hendrickson

Be sure to have a look below at the inside view and the bottom view.

I was invited to participate in the National Basketry Organization Exhibition "All Things Considered IV", and I made this basket for the show. The exhibition was at the Arrowmont School of Arts & Crafts in Gatlinburg, Tennessee from September 28 - November 10, 2007.

For this basket, I made two separate bases, one light and one dark, and then pulled light cords through dark to join them and create a single-layer cylinder. All dark cords travel diagonally around the cylinder in one direction while all light cords travel in the other direction. Every splitting can make the dark or light cord show, as desired for the design.

The design is inspired by Bushongo cut-pile raffia cloth found in African Designs from Traditional Sources , page 63.

---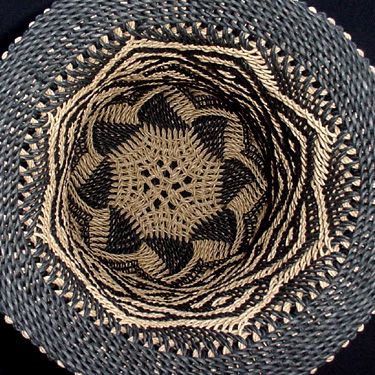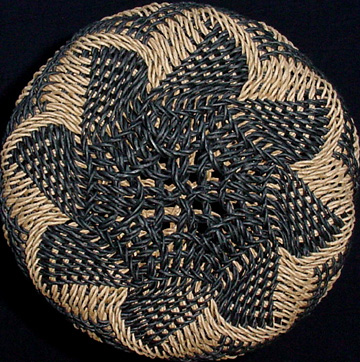 ---
Home
Kits for Ply-Split Baskets
Kits for Ply-Split Braids and Ornaments

This page created in 2007, and updated June 9, 2013.