Tablet Weaving and Ply-Splitting Books, Tools & Kits

---
Tablet weaving by Linda Hendrickson: Wall hanging featuring letters based on the typeface Legend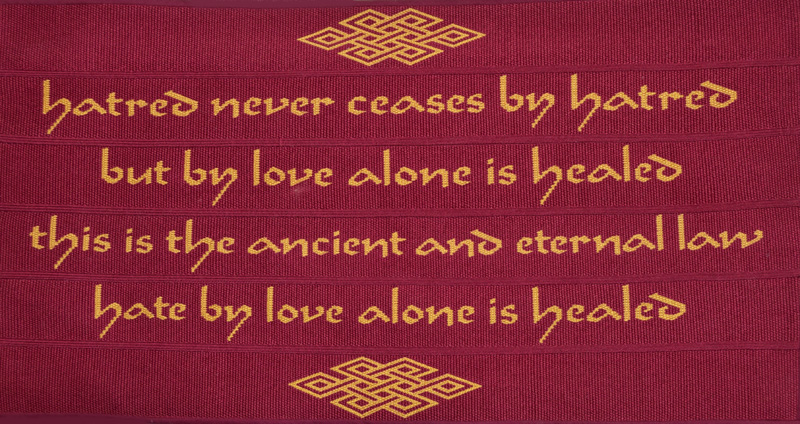 I created this wall hanging for the juried exhibition, "Spirit of the West: An Interfaith Exhibition of Fiber Art", at Jefferson Unitarian Church in Golden, Colorado, in conjunction with Convergence 2004. It was a wonderful and moving exhibition -- I loved the variety of faith traditions and the many fiber techniques, and especially enjoyed reading the artists' statements displayed with each piece, and meeting some of the other artists and talking with them about their work. I was surprised and very happy when the juror, Susan Wilson, announced that this piece received the Rocky Mountain Weavers' Guild Award.

For the exhibition, artists were asked to give a brief statement describing how the work expresses our faith tradition or spiritual journey. This is my statement:

"The verse is from a sacred Buddhist text, The Dhammapada. In the Portland Community of Mindful Living, in addition to sitting and walking meditation, we also enjoy singing songs that support our practice. We learn simply by listening to someone who knows the tune, and join in as we feel ready. Shortly after September 11, 2001, a member of our group taught us to sing these words, and we sang them over and over that night. I have sung them often since then, especially softly to myself while I was weaving these words."

The finished piece is 16" x 30-1/2". I used 5/2 perle cotton and the double-faced structure to weave letters based on the typeface Legend, which I had graphed for my book Please Weave a Message. Each band also has a narrow warp-twined border.

This is the first time I have sewn tablet-woven bands together, and everyone who came to my studio while I was working on the piece told me that I should sew them together by hand. I really did try.... but after several attempts, I gave up on that idea, and went back to my original plan, which was to overlap the selvedges and sew the bands together by machine. This went very quickly, and the machine stitching in the warp-twined borders is hardly visible at all.

I constructed the layers of the wall hanging with advice from my friend Sarah Auker, who has made many quilts. I used 100% cotton fabric for the backing, hanging loops, and binding. After sewing the bands together and trimming the sides, I cut a piece of backing fabric, and a piece of quilt batting the same size, and sewed this fabric sandwich together by machine. I cut bias strips for binding around the edges.

---
Home

This page updated on June 5, 2013.