Tablet Weaving and Ply-Splitting Books, Tools & Kits

---
Home & Garden

---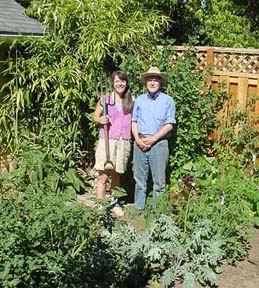 In Fall 2004 I read Toby Hemenway's book Gaia's Garden: A Guide to Home-Scale Permaculture. This was the beginning of a life-changing journey of learning to live more in tune with nature's ways.

We have made a lot of progress in transforming our yard. We started with removing English ivy and arborvitae, and by Fall 2008, we finally had also removed all of the grass, mostly by sheet-mulching. We now have over 100 species of plants, focusing on Willamette Valley natives, plants that attract beneficial insects, and some edibles. Our yard has been a Gold level Certified Backyard Habitat since July 2011.

The shady part is the mostly-native area, complete with a constructed dry creek bed which handles overflow from some of our rain barrels in Winter. We now have ten rain barrels scattered all around the house!

The small sunny part of our back yard has vegetable beds, plus a spiral herb mound. John and I enjoy gathering and eating food that we've grown ourselves.


Click here to see our entire plant list. Please contact me if you would like a tour -- I love showing people what we are doing!
Here are some of the things we have been doing. I will update this section occasionally as things evolve.